4. How do I set up automatic forwarding of emails?
Sign into your Microsoft Office 365 email account and set up automatic forwarding by following the steps below:
1.Open the "Settings" menu;
2.Select "Options";
3.Select "Mail" from the menu on the left;
4.Select "Accounts" then "Forwarding";
5.Select "Start forwarding", input a forwarding address, and choose whether to keep a copy of forwarded messages or not;
6.Click "Save".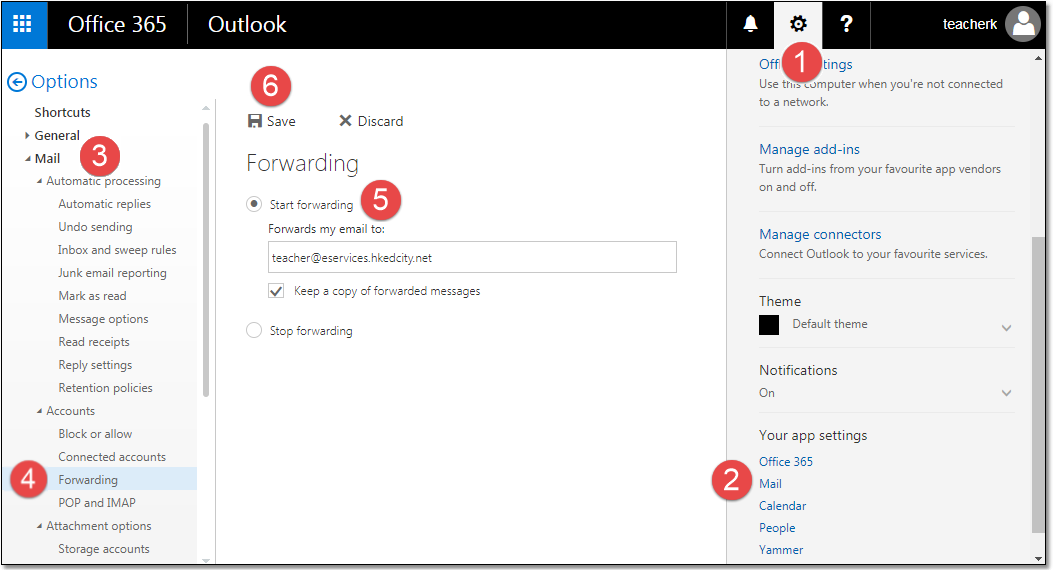 | | |
| --- | --- |
| | The MSA may forward emails to the e-Services email account of a DSA(T) or to the personal email account of a DSA(A). If the DSA(T)/DSA(A) has departed, please turn off automatic forwarding as soon as possible to prevent leakage of school information. |
Questions in the same category:
1.What are the username and password for my e-Services Email account?
2.How to change the password for my Email account?
3.How do I use mobile or tablet devices to manage my e-Services emails?
4.How do I set up automatic forwarding of emails?
5.How do I access my email account?
6.If no pop-up window appears on clicking "Email System", what should I do?